jetkens? dickson?
23 November 2010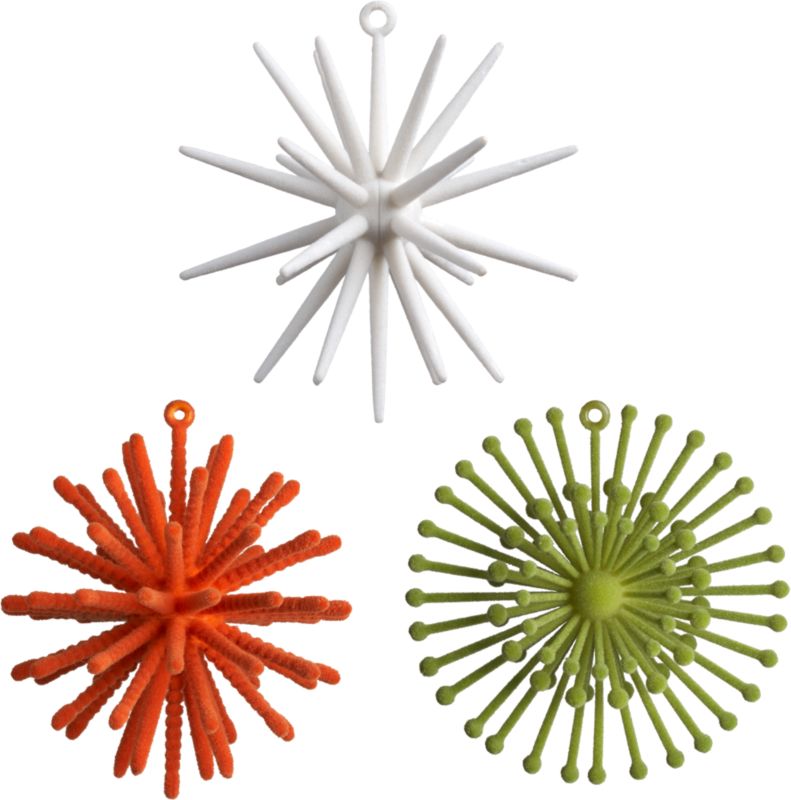 i was having a very long week a few weeks ago with nothing much to look forward to on the weekend except for a small reprieve and stacks and stacks more work.
the only recourse i had was to go shopping for christmas decorations.
naturally.
alas, i didn't find any; however, while poking around online, i stumbled on the PERFECT decorations for this year from CB2: jetsons-inspired ornaments.  en route to me are 8 of the white ones, to be hung in front of our grey curtains with crimson ribbon, and then the orange and green to adorn the tree.
paradoxically, our other christmas addition came from the opposite spectrum of modernity: charles dickens and chalk.
the boy and i have been pondering how to change our chalkboard wall into something befitting the holidays.  we've batted around various song lyrics, picture ideas, and classic quotes, but nothing called out to us that matched the perfection we found in our first iteration of the wall (crafted in June at the time of our wedding):
until sunday.
i woke up in a grumpy mood on sunday.  no, grumpy doesn't quite cover it…i was fussy. you know…FUSS. Y.  i had forgotten a disk i needed at school, so the boy and i pulled on our shoes and decided to fetch the disk while getting some pancake mix and then come home for breakfast.  i went to my desk to get my key (which is attached to my passkey to get into school and my jump drive with my whole school career on it) and found…nothing.
harumph!  now, i've definitely lost things before, and i have a natural talent for losing things within minutes of getting home, but i have not lost/misplaced my school keys the ENTIRE YEAR.  i have a pretty set system; however, last friday i taught in literally 5 different rooms on 3 different floors of school, so things were a little off.
but, how to get into school on a sunday to retrieve the keys AND the disk i needed.
i call my friend, heather, who works with me.
because she is a goddess among women (and men, too, if we're getting technical) she agrees to pop over and meet me while we retrieve everything.  [note: ironically, after this whole ordeal, i retrieved the keys and not the disk i was going there for in the first place.  of course.]
we find keys in the 2nd place i thought they'd be, set the alarm and then headed out.  not, of course, without first inviting heather for breakfast as repayment.
over a tasty breakfast of pancakes and eggs cooked by the chef boy, we mention to heather that we still need something for our chalkboard wall.  immediately she suggests a particular quote (from memory) from a one charles dickens that we INSTANTLY swoon over.  it's perfect.
[side note: i heart my friends.]
if you know anything about the boy, you know that once he has a project he's excited about, it's like a dog with a bone.  he must attack it, immediately, if not sooner.  he spent the afternoon designing it, then spent the next evening in the dark with his projector faintly outlining the script, then spent the next evening detailing this:
dude.
duuuuuuuuuude.
it's really awesome, if i do say so myself.
so, the beginning of our christmas season has started with a bang (not a whimper).  it will be a very dickens/jetson christmas, and i can't wait.